You have probably noticed that Brookfield Place has now passed the Suncor Energy Centre in height and will soon surpass the Bow and become the tallest building in Calgary and everywhere else outside of Toronto. However, there is another very impressive building under construction in downtown Calgary that will also be taller than Suncor. Telus Sky will be 222 meters tall which is about 7 meters taller than Suncor but 14 meters shorter than the Bow.
The building boasts a very impressive design by renowned architect Bjarke Ingels from Copenhagen Denmark. The building will be very noticeable in the skyline and is situated right in the middle of Calgary's tallest towers. It is directly south of Suncor and southwest of the Bow. The building's twist will be unlike anything else in Calgary.
The building has 750,000 square feet that will be divided up between office space and 341 residential rental suites. Those apartment suites will offer very impressive views because they will be on the upper portion of the building. I would imagine that the monthly rent will be quite substantial since there will be nothing else like this building in Calgary.
Construction started in early 2015 and currently the site is a giant hole where the foundation is going in. In fact, they needed to dig one of the deepest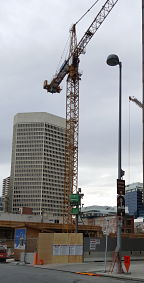 holes for any project in Canada. It is 31 meters deep and there were over 80,000 cubic meters of dirt taken from the building site using an old fashioned crane with a clam bucket that was able to grab over 7 meters of dirt with each scoop. They needed to use this method because the building site is so small and there was no way to build a ramp for trucks to drive in and out of.
Right now there are two cranes working on the foundation that will hold the building up and serve as a parking garage. Digging the hole and building the foundation often take a long time, but once the building gets out of the ground, progress seems to be much faster. That is at least what happened with all the other buildings that were constructed in Calgary in the last few years. Telus Sky is expected to be completed by the end of 2017.
Will the terrible Alberta economy have any effect on this project? It has happened before where projects that have not gotten out of the ground have been put on hold. The owners of the project will finish the parking garage and foundation and cap the building off at street level until conditions improve. However, I do not believe that will happen in this case with Telus Sky, because only 430,000 square feet will be for office space and Telus is using 155,000 square feet of that, so it should still make sense to proceed with the project. Renting out the 341 rental suites should be possible even in this economy as long as the monthly rent is not too high
Lets hope this one gets completed because it will look awfully nice in front of the Bow.
Here is an article from the Calgary herald with more information and pictures of this exciting project http://calgaryherald.com/news/local-news/calgarys-deepest-hole-five-things-to-know