As we have mentioned on this website before, the Bow will be losing it's title of tallest building in Canada outside of Toronto any day now to Brookfield Place just down the street. As I write this, it is tough to tell which is taller because they both look pretty much the same height from my area of town in the southeast. However, Brookfield place's reign will not be very long either because 300 kms to the north in Edmonton, there is a building that is under construction that will be about 3 or 4 meters taller than Brookfield place. That building is being constructed by the engineering giant Stantec, and is being built right beside the Edmonton Oilers new rink that I believe is called Rogers Place.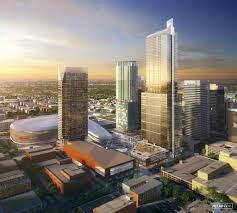 Originally planned to be 62 storeys, it's height has been adjusted upwards to 66 stories, which nudges it higher than Brookfield. Stantec will occupy most of the building's office space which will be around 800,000 square feet. It is a mixed used development with 454 condos on the top 36 floors of the tower and about 4 floors of retail which includes a grocery store. I would imagine the condos will be rather expensive since they will be in the tallest building in the city, and outside of Toronto. Regardless that area of Edmonton really needed some revitalization and this enormous project will make the area a lot more interesting and attractive.
Construction is still in the foundation stage with the big pour of concrete for the slab happening on the weekend that just passed on April 16, and 17th 2016. Here are some statistics on the concrete pour:
There were somewhere around 300 trucks used to transport and pour the concrete down into the hole.
Those trucks poured the concrete at a rate of about 300 cubic meters per hour which was able to empty about 30 trucks an hour.
There was about 700 to 800 tonnes of rebar used in the slab
In total there was about 2800 cubic meters of concrete poured
It took about 9 hours to pour all that concrete
So, it will be a while before this building starts to make it's way out of the ground and rise above everything else in Edmonton. My guess is that they will be out of the ground by the end of summer and the building will go up fairly quickly after that. There is also a hotel being constructed adjacent to the building at the same time so that could complicate things a bit.