One thing that is often overlooked when people buy new homes or condos is the landscaping. When you take possession of that new house or townhouse, you may not have any grass, trees, or shrubs in the back yard. Most builders will install sod, trees, and shrubs in the front of the home or complex to make it look visually appealing and have great curb appeal for prospective buyers, but they almost always leave the back yard a baren wasteland devoid of any plant life, decks, and patios.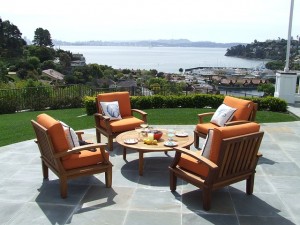 This can be a real problem, especially in the spring when that patch of dirt in the back yard turns into a soupy mess of mud. If you have children or pets, it will be almost impossible to prevent them from tracking in mud all over your new home leaving your floors and carpets dirty beyond belief. You will feel like you are constantly cleaning and might find it impossible to keep up
The solution is to get some quality landscaping in place as soon as possible to beautify your property and more importantly, keep the dirt from coming into the home. To do this properly there are three phases to a good landscaping project:
Design
Decide who the project is for and how you want to use it. Is it primarily a space for your kids and possibly your pets to play in? Then you will probably want a lot of sod and open spaces for them to run around and play in. Is it for you and your spouse to enjoy quiet afternoons and evenings sipping wine? Then you may want more decks and patios complete with outdoor furniture and maybe a firepit. In some cases you may want to install a swimming pool if you have the room, although a pool is a real luxury item in Calgary's cool climate. You want to use Google and Pinterest to look at lots of landscaping ideas and decide what you want for your project. Take your time and get it right to avoid any costly mistakes and decide if you are going to be doing the work yourself or hiring a contractor to do it for you.
Get your supplies
Once you have decided what you want, you can get most of what you will need from the big box stores like Lowes or Home depot. They stock pretty much everything including sod, bushes, shrubs, trees, landscaping stones, and deck packages. They are usually fairly reasonable for prices and you can even rent a van to transport your larger and heavier items to your property. However, they don't really offer any design or construction services, so if you want to get someone to plan and manage the whole project, you can hire a Calgary landscaping company such as Countryside Landscapes & Garden Centre. The great thing about them is that they grow their own Aspens, Poplars, Spruce, and Willows and they are all capable of surviving the harsh climate conditions in Calgary . This is an important consideration since we all know it is pretty hard to get some trees to survive in this city.
Planting and construction
If you plan on doing the work yourself, there are a ton of resources on the internet for you to use. Just make sure that you spend some time reading and watching videos on Youtube and make sure that you filter out any bad soures of information. For every helpful video you find on Youtube, you will find several that are uploaded by people that don't know what they are talking about. Ask friends and family for their advice and get a general feel of how you are going to complete the project before you start. Otherwise, you could create a real mess for yourself and end up having to hire a professional to fix your mistakes.
Here is a nice video to help you with the design and planning stages of your landscaping project